FLIMS
HOTEL SCHWEIZERHOF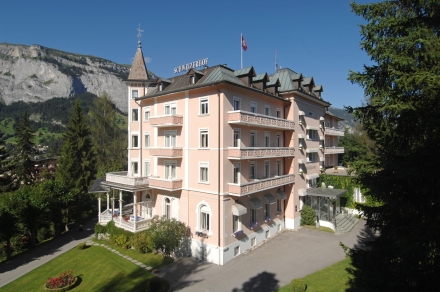 Hotelkonditionen
Inbegriffene Leistungen: Frühstücksbuffet, Abendmenu im Rahmen der Halbpension, Wellnessbereich und Parkplatz
Zimmer:
5 Solitude Einzelzimmer (ca. 14 m2, Bett 90 cm, teilw. Balkon, Dusche)
und PREISE CHF 203.00 pro Teilnehmer/Nacht
4 Minuscule Einzelzimmer (ca. 17 m2, teilw. Balkon, Grandlit 140 cm, Norden, Bergblick, Dusche)
CHF 233.00 pro Teilnehmer/Nacht
4 Ambiance Doppelzimmer (ca. 20 m2, Balkon, Badewanne o. Dusche)
CHF 204.00 pro Teilnehmer/Nacht
oder Ambiance Doppelzimmer zur Einzelnutzung
CHF 304.00 pro Teilnehmer/Nacht
FLIMS HALL OF FAME
FLIMS SWISS ALPINE OPEN 2021:
SCHLUDDRANGLISTE/CLASSIFICA FINALE/FINAL RANKING PARTIEN/PARTITE/GAMES PHOTO ALBUM
............................................................................................................................................................................
Die Perle von Flims
Auf Rätoromanisch «Lag la Cauma» genannt, was «See der Mittagsruhe» bedeutet, ist der Caumasee die Perle von Flims. Schwimmen, Faulenzen und Sonnenbaden: Egal, ob du zu Fuss oder mit dem Bike unterwegs bist, ein Abstecher zum wunderschönen See ergänzt deinen Ausflug perfekt. Der Caumasee liegt im Herzen des Flimserwaldes und beeindruckt vor allem mit seinem auffallend türkisgrünen und angenehm kühlen Wasser: Im Sommer beträgt die Wassertemperatur zwischen 17 und 24 Grad Celsius. Im Caumasee zu baden gehört einfach auf jede sommerliche Bucket List!
Il gioiello di Flims
Il lago di Cauma, alimentato da sorgenti sotterranee calde, è situato a 997 m s.l.m, nel cuore del bosco di Flims. L'acqua è turchese e di temperatura piacevole e il lago richiama alla mente una vacanza ai Caraibi.
Con le sue acque limpide e le pittoresche insenature, il lago di Cauma supera persino qualche spiaggia sul Mediterraneo. Tradotto, il suo nome significa «lago del riposo pomeridiano» ed è particolarmente adatto all'atmosfera «rilassata» che gli ospiti del lido apprezzano particolarmente. Ottima l'idea di abbinare un bagno nel lago a una passeggiata nel bosco di Flims. Soprattutto dopo una lunga passeggiata un bagno ha effetto rinfrescante.
Il lago offre un campo da beach volley, un grande parco giochi, pedalò e barche a remi e un ristorante.
The jewel of Flims
Known as 'Lag la Cauma' in the Romansh language, meaning 'lake siesta', Lake Cauma is the jewel of Flims. Swimming, chilling out or sunbathing. Whether you're travelling by foot or by bike, a stop at this magnificent lake is the perfect addition to your trip. It is surrounded by forest on three sides, and contains a wooded island in the centre of the lake where you can relax in complete tranquillity. Particularly striking is the turquoise-coloured and pleasantly cool water with temperatures of between 17 and 24 degrees Celsius.

Hall of Fame 2022
[679 Kb]